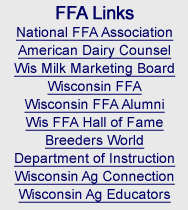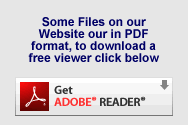 A special thanks to Genava Online of Lake Geneva, WI for donating the hosting of this website.

Website Active Since:
Febuary, 2003
Webmaster: Ben Killoy

Turf Grass Management award winner for 2001

Ryan DeBuck of the Delavan-Darien FFA Chapter was named the Turf Grass Management award winner for 2001 at the 72nd State FFA Convention in Madison, Wisconsin. DeBuck is the son of David and Debbie DeBuck. The Delavan-Darien FFA advisors are Martin Speth and Scott Imrie.

DeBuck's Turf Grass Management Proficiency and SAE program consists of working as a ground technician for DeBuck's Sod Farm. His responsibilities and skills have advanced to where he is involved with the maintenance and repair of the machinery and equipment. He also operates all of the equipment, from sod cutters to fork lifts and tillage equipment. His work includes stacking sod, loading trucks, making deliveries, planting seeds and customer service.

DeBuck has been an active member of the Delavan-Darien FFA, he has involved with numerous chapter activities such as delivering jack-o-lanterns to the area nursing homes and Food For America. He has served as the Sentinel of his chapter and was awarded the Star Chapter Farmer Award.

The four national finalists in this area will receive a plaque, scholarship money and travel expenses to the 74th national convention in Louisville, Kentucky in October. The national winner will be selected from this group, and will receive an additional plaque, scholarship money and the opportunity to participate in an International Travel seminar.

The Turf Grass Management Award is sponsored at a state level by the Bruce Company of Madison, Inc., the Mauston FFA Alumni, UAP Great Lakes, and the Sevastopol FFA Chapter and Alumni through the Wisconsin FFA Foundation, Inc. and on the national level by The Scotts Company as a special project of the National FFA Foundation.

The Wisconsin FFA association is comprised of 258 local chapters preparing nearly 16,000 students planning for careers in agriculture. FFA activities and award programs complement instruction in agricultural education by giving students practical experience in the application of agricultural skills and knowledge gained in their classes. The FFAs major objectives are to develop the students' potential for the premier leadership, personal growth, and career success.